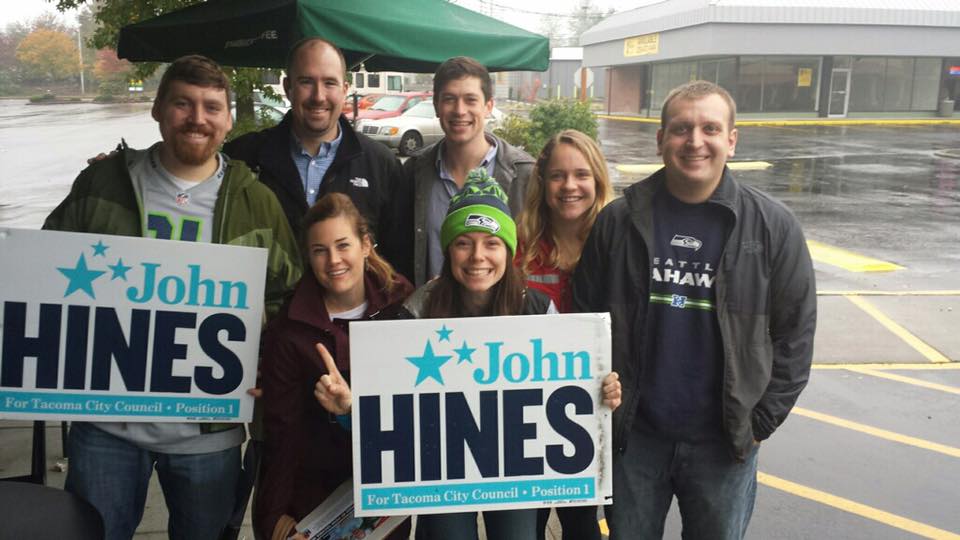 Educator and Tacoma Native John Hines Running for Tacoma City Council District 1
Tacoma native and educator John Hines announces his bid for the open Tacoma City Council seat in District 1 today, with strong support from local leaders.
With too many politicians focused on making headlines instead of doing the work, John Hines is ready to deliver what every resident expects from local government: The basics. Hines will focus on public safety, delivering core services, plowing the streets, and investing in our neighborhoods and city.
"I've lived in Tacoma my entire life. I want to make it an even better place to call home by supporting education, growing local businesses, investing in public health and safety," Hines said. "My pledge to voters is that when you have a problem, like needing a crosswalk on your street or help navigating the city's permit system, you can count on me to roll up my sleeves and get to work."
Former Tacoma Mayor Marilyn Strickland strongly endorses Hines. "John will be a solid addition to the City Council. His dedication and leadership experience as an educator, coach and library trustee will be vital as he works to strengthen partnerships between the city and K-12 schools, colleges and local businesses," Strickland said.
Hines grew up in South Tacoma, has lived in nearly every part of the city and graduated from Lincoln High School. John earned his bachelor's degree from the University of Puget Sound where he was a student athlete on the football team. He works as an Instructional Facilitator (he teaches teachers) for the Department of Academic Equity and Access in the Tacoma School District. For ten years prior, he was a history teacher at Todd Beamer High School in Federal Way.
Local teacher Nate Bowling, the 2016 Washington State Teacher of the Year, commented that "As a lifelong Tacoman and an advocate for good governance, I'm supporting Hines. We need more teachers and people with experience engaging with ethnically and linguistically diverse populations in local government. He has the right combination of experience and passion to serve in this job day one."
Public service is a way of life for Hines. He was part of Youth Leading Change at Safe Streets and D.A.R.E. For 11 years he had a positive impact on youth as a high school football coach. Today Hines is a Trustee for the Tacoma Public Library, serves on the Pierce County YWCA board, and is a Palmer Scholars mentor.
Pierce County Councilmember Marty Campbell said, "we need more people like John who are willing to roll up their sleeves and do the hard, but necessary, work for the public. His service on as a Library Trustee and on the YWCA board attest to his spirit of service. I'm proud to endorse John."
John is a competitive runner, with 11 marathons under his belt, including the Boston Marathon in 2011. He's ready to wear out a few pairs of running shoes while knocking on doors in North and West Tacoma to win the election. He's also a trivia buff, which landed him on the hit gameshow Jeopardy! in 2012 where he was a semi-finalist during their "Teachers Tournament."
John and his wife Kelsey have two children, five-year-old Garyn, and 18-month-old Lauryn.
Learn more about John's campaign by visiting his website at hinesfortacoma.org.