We must get safety and infrastructure right
Friends –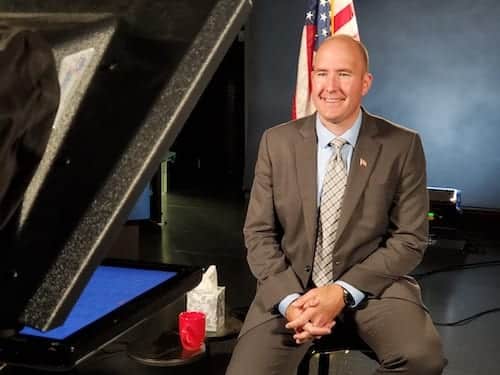 As we get closer to the election, the days are getting shorter and the number of events are picking up. This past week, along with doorbelling in the neighborhood, I taped my video voters guide for TV Tacoma (it will be available on October 18th!), and got back on campus for homecoming at the University of Puget Sound. As people are focusing in on the upcoming election, I have appreciated the chance to talk more specifically about my vision for Tacoma and how I hope to achieve it.
With less than a month to go, we have multiple opportunities for supporters to get involved and help us come out ahead in November. Please consider joining us for doorbelling, sign waving, or at one of the candidate forums that are coming in the next few weeks. We can use everyone's help in the final days.
– John
---

Upcoming Events
Monday, October 7 from 6:00-8:00pm – North End Neighborhood Council Candidate Forum
University of Puget Sound, Wheelock Student Center Rotunda – 1500 N Warner, Tacoma, WA 98416
Friday, October 11 from 12:30-1:00pm – TV Tacoma Candidate Forum
Tacoma City Council Chambers – 747 Market St, Tacoma, WA 98402
Saturday, October 12 from 10:00am-1:00pm – Doorbell Blitz
Meet at Starbucks (2405 N Pearl St, Tacoma, WA 98406)
Let us know you can be there to help finish the campaign strong by emailing Rachel at [email protected].

Friday, October 18 from 7:30-8:30am – Morning Sign Waving
Corner of 30th and McCarver, Old Town
Friday, October 18 from 3:30-4:30pm – Afternoon Sign Waving
Corner of 21st and Pearl

---
Story from the Trail
This past weekend, I was driving on 6th Avenue near Safeway and I saw a pedestrian almost get hit by a car. It was a scary few seconds, and no one was hurt, but it reminded me of the importance of getting our safety and infrastructure right.
This stretch of 6th Avenue has seen pedestrian deaths before and so far, there have been no changes. While there is a crosswalk and a street light for customers leaving Safeway, it is far away from the apartment complex where people live. Most customers simply sprint across the busy four lane road (or in the instance I saw, push a loaded shopping cart) and do not use crosswalks.
This is an instance, where our city needs to be proactive in thinking about public safety. If we have crosswalks and lights, but they are not used, or not connecting people to the places they need to go, they are not going to be used. We should be looking at moving the current crosswalk or adding another one in a place that will be used. The apartment complex located close to a grocery store is what we want in our city, but our city also needs to step in and ensure there are safe routes for our residents. Small fixes, the basics of government, can make all the difference!